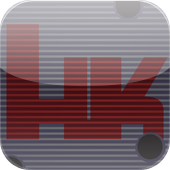 H&K: The Gray Room
H&K: The Gray Room is a must have for Heckler & Koch enthusiast and collectors alike. Experience a rare look inside the prestigious Gray Room containing the legendary collection of H&K custom and prototype firearms stunningly photographed.
---
JobsNearMe
Find jobs in Northwest Ohio with the Jobs Near Me app.  Users download the app and find employment opportunities posted by Ohio Means Jobs with a single click. Narrow your search with a defined radius of a zip code or other advanced search options.   The map feature uses pinpoints to show where the jobs are located. Users can view the job description and job requirements, order even apply directly right from their smart phone.
---

MUSKYMIKE'S™ TROLLING SECRETS
Now available at the Google Books or Google Play Store.  
iOS and Android Compatible
Learn the running depths for over 80 of  the most popular musky crankbaits.